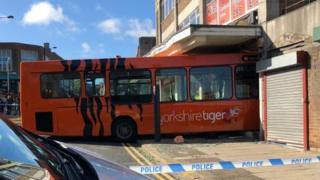 A bus has ploughed into the front of an opticians in West Yorkshire.
The single-decker bus operated by Yorkshire Tiger smashed into the Shipley Eyewear store at the junction of Market Square and Kirkgate at noon.
One witness reported hearing two loud bangs and seeing a cloud of smoke and dust. He said he initially thought it might have been a bomb.
It is understood a number of people were onboard at the time but emergency crews said no-one was seriously hurt.
Retired lorry driver Colin Glover, 72, and his wife were standing nearby when the bus crashed into the shop.
He said: "We heard two loud bangs and then saw a load of what looked like smoke or dust and people running away.
"I thought at first it was a bomb."
Mr Glover added: "I ran straight to the bus and lifted the flap to turn the engine off.
"There were lots of people trying to help get people off the bus, but I don't know how many there were on board.
"It was quite a panic. People were wondering what had happened.
"It was a big surprise and a shock. You do not expect to see a bus sticking halfway in to a shop window."
Mr Glover said he thought the two people who worked in the opticians had been on their lunch break when the bus crashed.
Yorkshire Tiger has been contacted for a comment and has yet to respond.
West Yorkshire Police closed Market Square while it carried out investigations and the area was reopened at about 14:20 BST.
You might also like: