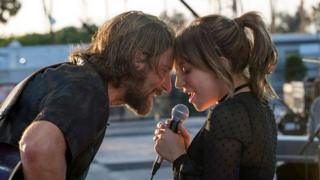 It was one of the top three films at the UK box office last weekend, but you won't find A Star Is Born on the listings for your local Vue cinema.
The chain says it's "working very hard " to try to bring the film to its customers around the UK.
Vue hasn't revealed the exact reason why they're not screening it – and has apologised to customers who want to see the film.
Heavily tipped to win at the Oscars, it stars Lady Gaga and Bradley Cooper.
Warner Bros. who produced the movie says it is "continuing to work hard with Vue to find an agreement for A Star Is Born to be shown at their cinemas."
The news has angered customers whose only local cinema is part of the chain.
Vue has 89 locations across the UK and Ireland with a total of 854 screens.